How to Make Simple Homemade Soap Without Using Lye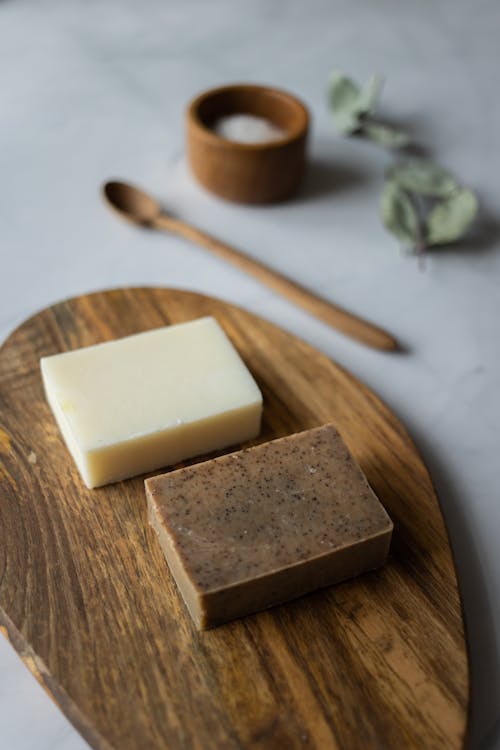 This post may contain forms of advertising, sponsorship, paid insertions or other forms of compensation. Please read my full disclosure: https://thegreencrunchymother.home.blog/disclaimer/
Disclaimer: I have no formal training in nutrition, essential oils, or toxin free living. I am just a self taught mum who wants the best for her children and to share what works for my family, and what does not! Just because it works for my family it does not mean that it will work for you. Always consult with a professional if you are ever in doubt concerning the content written on my website. To read my full disclaimer, please see: https://thegreencrunchymother.home.blog/disclaimer/
I have always been interested in making homemade soap, but I was always too afraid of the dangers of using lye. I love admiring the beautiful hand crafted soaps that are made and sold by the local crafters at the farmers markets .The main ingredient in all soap, lye, is what always stopped me from making my own. After doing hours of research on soap making, I found that there is no substitute for lye. Nothing else will make oil become soap.
What is lye anyway? Lye is a strong alkali that is used in soap making, among other things. Lye, or sodium hydroxide, is a chemical made from salt. Lye is also known as caustic soda or sodium hydroxide. Sounds scary, right? All soap is made with lye and there is no substitute for it.
How caustic is lye? It is highly caustic and must be used with great caution. It can burn holes in your clothes and it can also leave burn marks on skin. Lye will also release fumes into the air for about 30 seconds. The fumes can cause a choking sensation in your throat, and it is strongly recommended that you do not use lye around children and pets. For these reasons, I ventured out and explored different methods to make homemade soap with out using lye. For the purpose of this article, I will only be sharing a soap recipe that is made without the lye.
The method I am using is called the "Melt and Pour". What does "Melt and Pour" mean? It means the process of melting a preexisting soap base, adding colour, herbs, and fragrance or essential oil, then pouring the soap base into a mould. The benefit of using this method is that you do not have to handle lye yourself.
Speaking for myself, making soap for the first time was intimidating, but it wasn't difficult. This quick and easy soap recipe was fun to make and my kids joined the fun making the soap. This soap can be personalized by adding exfoliants, herbs of your choice, and essential oils. For this specific recipe I used sage. You can also use lavender, chamomile, lemon balm, mint, rosemary and so much more. I plan on experimenting with many different herbs in the future. It is up to you how creative you want to get!
I found most of my ingredients at the local Bulk Barn. I ordered my Melt and Pour Soap at Amazon.ca. Most of the ingredients to make this soap can be found at the grocery store. Don't want to leave your house? They can all be ordered online for quick delivery. I always try to be as cost effective as possible and use equipment that can be found around the house.
What you will need:
1. Grater.
2. Melt and Pour Soap.
3. Glass Bowl
4. Home Made Moulds (milk containers, yogourt containers, ice cream containers).
5. Large cooking pot.
6. 1/4th cup of rubbed sage (Or any other herb of you choice, get creative!)
Directions
Grate 2 cups of Melt and Pour soap (I purchased mine at Amazon.ca ).
Place the grated soap in a heat-resistant glass bowl.
Add 1/4 cup of water.
Place your bowl over a large pot of simmering water. Heat it up gently until it is all melted.
It is important that you do not stir it, it will add bubbles to your soap.
Remove your bowl from the heat and add 1/4 cup of rubbed sage. Mix your ingredients in very carefully so you do not create bubbles.
Now you are ready to pour your soap into a mould. You can purchase soap moulds if you wish, or you can use the economical free methods. I used an almond milk container as my mould. You can also use yogourt containers, and ice cream boxes. You can get creative with this.
Pour your soap into your mould and place it in your fridge to set.
Once your soap has set, remove it from it's mould.
To dry your soap completely, place on a cake rack for three weeks.
Once your soap is completely dry, you can cut it up and create soap bars.
This Do It Yourself soap makes a fantastic homemade gift. I love giving them to friends, family, teachers, coaches, and neighbours!
Do you make homemade soap? Do you have a recipe that you want to share?